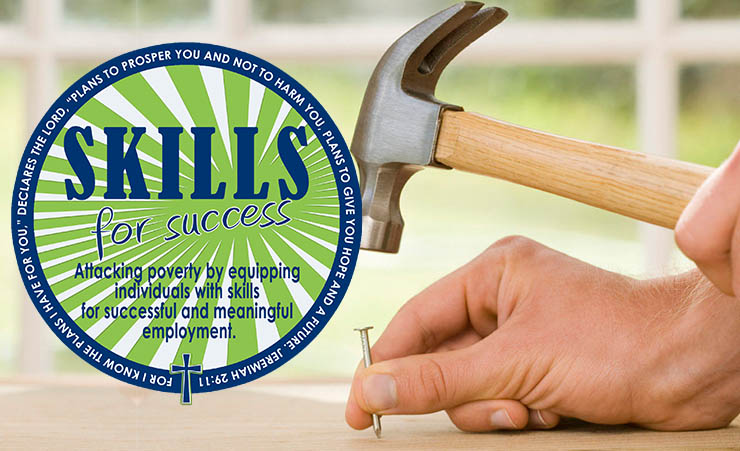 Skills for Success Job Training
In 2015, the Rescue Mission of Utica embarked on a new program to train its residents and other unemployed and under-employed individuals with an opportunity to build skills in the construction trade.  "Skills for Success" is a job training program in partnership with Mohawk Valley Community College, Youth Build.  This program educates and equips students in the construction field giving them skills for successful and meaningful employment.
This is accomplished through classroom instruction and hands on experience from ground level to roof top construction. During the program, students work on the construction of "small" houses. When completed, the homes will be provided to low income or homeless individuals, or families. Skills for Success provides participants with a vital skill set, and the knowledge and experience needed to enter the construction fields where they will be able to make a living wage for themselves and their families.
The Skills for Success Program is transforming the lives of area men and women, and equipping them with a lifelong career opportunity and even the chance to be self-employed. Community members who may have been caught in the cycle of poverty are able to break that dependence, and be an example to their friends, family, and future generations to follow.
The Small House component of the Skills for Success Job Training Program turns vacant lots that were once an eyesore, into small homes that will add tax revenue back to the city. Families, who previously could not see themselves participating in the American Dream, will awaken to the reality of home ownership.
The Skills for Success Job Training Program has been made possible in part due to a Community Foundation Grant.  Together we are reaching out, changing lives, and attacking poverty by equipping individuals with an education, and skills for gainful employment. The Skills for Success Job Training Program positively impacts families, neighborhoods, and  the greater community for years to come.
Together We Transform Lives.
Please view the following video link to learn more about the program. Visit https://cutt.ly/xcN4c5K to make a donation to support the Skills for Success Program.
Check out the initial house located on Sunset Ave in Utica that the Skills for Success Program renovated.
For more information you can download our Skills for Success brochure, application or contact: