Our Food Service Department continues to provide its vital, nutritious meal service program to the hungry, homeless, addicted and disabled individuals in Utica and the Mohawk Valley. Daily we provide three meals to our 130 residents in addition to serving a walk-in population from the community a hot "To-Go" breakfast, a "To-Go" bag lunch, and hot "To-Go" dinner meal. This is made possible by the generosity of a giving and caring community who provides much of our raw foods through in-kind donations.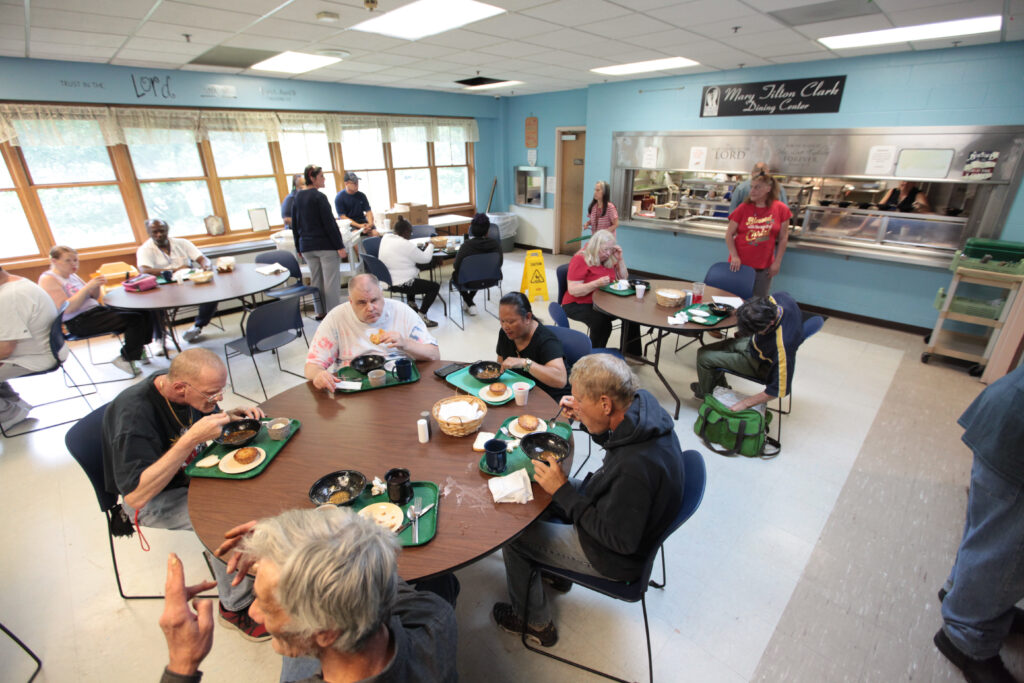 Value of Donated Food the Mission Received
Hot Meals To Homeless & Underprivileged Individuals
Food donations can be dropped off at 201 Rutger Street daily from 6:00am – 6:00pm.
Turkeys and pies are always needed for our Thanksgiving dinner, and turkeys, hams, and pies for our Christmas dinner. Thank you and God Bless You!
The Rescue Mission of Utica has a food pantry for families in need. There is always a need for the following items:
Dried Fruits
Canned Fruits
Canned Vegetables
Tomato / Spaghetti Sauce (please no glass jars)
Instant Potatoes
Vegetable or Fruit Juices
Proteins - Meat, Non-Meat, & Dairy:
Canned Tuna
Canned Chicken
Spam (other similar canned meats)
Canned Beef / Chicken Stews
Canned Raviolis / Chili with Meat
Dry Beans
Canned Beans
Peanut Butter
Powdered Milk
Rice
Pasta
Oatmeal (individual packages)
Hot Cereal (like Cream of Wheat)
Cold Cereal
Macaroni & Cheese
Ramen Noodles
Boxed Stuffing Mix
Pancake / Biscuit Mix
Granola Bars
Trail Mix
Jelly & Jam (please no glass jars)
Brownie & Cake Mix
Other Snacks
If you would like to know more about hosting a food drive or the Food Service program contact: